wikivoyage
God's Own Country, Kerala is a haven for travelers. The diverse geographical terrains bring out the inherent beauty in this picturesque state of India. The vast stretches of coastal beaches not just highlight the boundary of the state but also form a resplendent touring spot for the visitors. Kovalam beach is a gem when it comes to beaches in Kerala.
traveltriangle
This magnificent beach lures visitors from all over the world. The sun dazzling over the blue waters at this beach is purely a delight for every visitor. This golden, sandy beach is the perfect place to unwind after a hectic week at work. If you truly want to reward yourself for every effort that you put in, then head right away to Kovalam! There is so much to do and explore at this marvelous tourist hub in Kerala.
If you are wondering how exactly you can kill time on this beach apart from lazing around and swimming, then you must seriously check out this list. It offers you an inside peek of the activities that you can take up at this beautiful beach.
14 Awesome Things to Indulge in at Kovalam Beach
1.Climb up the Kovalam beach Lighthouse
trover
If you want to experience mesmerizing views of this coastal town, then you need to head to the lighthouse beach which houses a 30 meter high Light House. Located at the southern end, the lighthouse has an observation platform that offers you bewitching views of the sea. You need to climb 142 steps to witness the enchanting views of the surroundings.
2. Take a Catamaran Ride
trekkerpedia
Catamaran rides are offered at the Hawah Beach and are something that you must undoubtedly indulge in. You get to ride in a traditional wooden catamaran boat that is rowed using bamboo paddles. There is no dearth of lakes in Kerala. You can enjoy spectacular beauty of the surroundings by boating at Vellayani Lake. There are about 11 registered catamaran boats available on the main beach. The rides last from 15 to 120 minutes. The sunset cruises are the most romantic. No advance booking is necessary to experience something so heavenly.
3. Join the Surfing Revolution
magicseaweed
If you are fond of outdoor activities, then Kovalam Beach may prove to be quite promising. You can surf or take a surfing lesson at the surfing school that promises an impeccable and unforgettable experience to the visitors.
4. Dip in the Sea
When all you feel like is just taking a break from everything, you can find pure solitude by dipping in the sea at the Kovalam Beach.
5. Try Adventurous Sports
keralataxis
If thrilling water sports are your thing, then Kovalam has a plethora of options to offer to you. You can surf, swim, Jet Ski and paraglide for an enthralling experience overall at this quaint beach.
6. Indulge in some Lip-smacking Delicacy at the German Bakery
tripadvisor
It would be a sin not to visit this bakery while in Kovalam. This quaint bakery overlooks the striking Lighthouse Beach and is highly recommended for those who cannot live without sweet treats. Try Shrimp Biryani, milkshakes, pancakes and pastries at this stunning locale. If you are holidaying with your bae, then make the most out of the candle-lit sitting arrangements offered in the evening. Do try the Ayurvedic meals offered on request.
7. Go Cycling
eventshigh
You can rent a cycle and bike into the vastness of the beach. You can also head towards the palm grove villages that dot the beach for a unique experience.
8. Try Yoga
yogaretreatkerala
If you are looking for a one-of-a-kind experience at Kovalam, then meet some Yoga experts who promise a serene experience by the sea. If you want to reinvent yourself, then this is something that you shouldn't miss trying out.
9. Try Karimeen Pollichathu
ekeralatourism
If you have a thing for trying local delicacies, then you should get a generous bite of this delicacy. This is a star food that Keralites swear by. Karimeen Pollichathu is a flavorful delicacy that is cooked in numerous ways. Fish Malabari is yet another recipe that you can try in this beach town if seafood is your thing. Kovalam is a haven for seafood fanatics. Tuna, mackerel, lobster, prawns, kingfish and squid delicacies are served at almost every seafood restaurant and by vendors on the beach.
10. Invest in Pretty Keepsakes
timesofindia
Shopping in Kovalam is not about luxury malls or expensive markets. It is all about exploring the artsy picks at the beaches. You will get obsessed with shopping once you start immersing in the experience. Do check out the Little Tibet Arts store. This cozy little store offers beautiful trinkets at fair prices. There are many stores on Kovalam beaches that sell jewelry and handicrafts made of seashells. You can also buy souvenirs to take back home that would remind you of the memorable vacation you had with your family and friends while in Kovalam.
11. Visit the Artificial Off-shore Coral Reef
traveltriangle
The artificial coral reef is a marvelous project undertaken by the Government of Kerala at the Lighthouse Beach. It has been taken in the wake of improving the ecology and protecting the marine environment. The project is being carried out in collaboration with the Department of Harbor Engineering. You get to experience something this magnificent if you head to the lighthouse beach. The materials used for creating the artificial reef can significantly improve the marine habitat instead of replenishing it from overfishing and other activities. This region promises increased opportunities for surfing. There has been a surge in tourism in Kovalam beach of this ambitious project by the government.
12. Pamper Yourself with a Soothing Massage by the Beach
visittnt
There are numerous places and Ayurvedic resorts that promise you a serene experience by the sea. The professional masseurs will help you rejuvenate your soul and mind.
13. Take a Houseboat Cruise
karmakerala
If you are traveling with your family, make sure to indulge in the houseboat cruise. It offers an experience unparalleled on the sparkling waters of Karamana River in Kovalam. The Thiruvallam Boat Club located on the banks offers houseboat cruises, kayaking, canoe rides and cruises to the tourists from 10 am to 6 pm.
14. Watch the sunset at Edakallu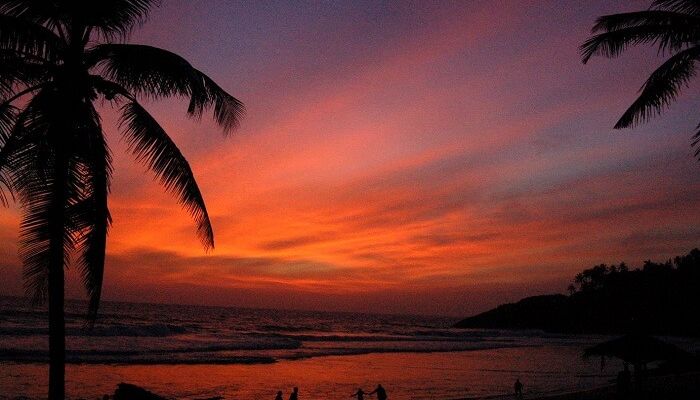 traveltriangle
Edakallu is a popular sunset viewing point on Kovalam Beach. It is located amidst Eve's and Lighthouse beach. It promises enchanting views of the orange and the red setting sun over the horizon. The beautiful patterns formed in the sky wouldn't fail to mesmerize you. It is one of the best places to experience sunset in Kovalam. Do not forget to capture amazing pictures of the bewitching patterns formed in the sky by the setting sun.