Traveling to a country during festivals can make one's trip a little extra special. We get a glimpse into the essence of the local culture all packed in a few celebratory days. India has a rich heritage of celebrating amazing festivals. Of these, harvest festivals are quite important among all the communities and signifies the main harvest of the region at the time.
People around the country thank God for a bountiful harvest, and also pray for the next year to be filled with joy, glory, and goodness. Since India is such a big country with varied regions, the harvest festivals across the country are celebrated at different times solely because of the differences in seasons and climate.
11 Most Popular Harvest Festivals Celebrated in India
Makar Sankranti – Joy and Jaggery
This is the most commonly celebrated harvest festival in India. It is celebrated pan India, from north to south, and from east to west; but you would hear different names for it in different regions. Sankranti is believed to be the end of winter and the onset of spring indicating the beginning of new, good and brighter times. People celebrate the festival by cleaning their houses, getting rid of the old, welcoming the new, singing songs, dancing, kite flying and conducting rallies.
Where is it celebrated? Throughout the country, but known by different names.
What makes it awesome? The Kumbh Mela and of course the yummy delicacies prepared with jaggery and sesame seeds.
Date – 14th January 2019
Baisakhi – An affair of Dhol, Drums and Dance
Punjab is a colourful place filled with happy people who celebrate life every chance they get, and the harvest festival is no exception. They offer their immense gratitude to God and express joy by wearing colourful dresses, singing happy songs and dancing blissfully to the mesmerizing beats of the Dhol. Various fairs are also organized where you can see captivating performances that feel like magic.
Where is it celebrated? Punjab and Haryana
What makes it awesome? The beats of the Dhol, Bhangra, and Gidda.
Date – 14th April 2019
Lohri – A Celebration of Love and Light
Lohri marks the end of cold winter months, and the beginning of longer days as the sun travels into the northern hemisphere. This is the time for Punjabis to celebrate the light, love, and gratitude, They gather around bonfires with their families and friends to offer grains, corn, nuts and their humble salutations to the almighty who blessed them bountiful harvests of sugarcane.
Where is it celebrated? Punjab
What makes it awesome? Everybody sings the Punjabi folklore Sunder Mundriye
Date – 13th January 2019
Ladakh Harvest Festival – A Buddhist Bonanza
Gaining a lot of popularity worldwide and rightfully so, the Ladakh Harvest Festival is the personification of fun. The entire region of Ladakh looks bright, beautiful and breath-taking. Monasteries and stupas are very well decorated and people go on pilgrimages to Thanka of Kyabje Gombo. This festival is filled with ceremonies and rituals, along with the exhibition of a myriad of arts and crafts.
Where is it celebrated? Ladakh, Zanskar, and Kargil
What makes it awesome? Dramas that showcase the teaching of the Buddha.
Date – 25th – 28th September 2019
Basant Panchami – A Marvellous Mustard Affair
The harvest festival of Basant Panchami celebrates the birth of the Goddess of Knowledge, Maa Saraswati and marks the onset of the Spring season. It is celebrated mainly in North India and is often associated with the colour yellow, which is known as the colour of spirituality. Mouth-watering goodies and decorations across cities are often the highlights of this festival.
Where is it celebrated? Haryana and Punjab
What makes it awesome? Sweets like Meethe Chawal and food like Sarso Ka Saag
Date – 22nd January 2019
Bhogali Bihu – Spreading Cheer and Euphoria
The entire state of Assam comes together with fervour and passion every year to celebrate Bhogali Bihu, a harvest festival. The farmers in the region celebrate the collective efforts of the community which led to a good harvest. The celebration involves a special dance by women, bullfights, bird fights, and delicious food.
Where is it celebrated? Assam
What makes it awesome? Beautifully dressed men and women, regional songs and dances, Rice Cake (Til Pitha) and other savouries
Date – 15th January 2019
Gudi Padwa – A Spring of Salutations
Maharashtra welcomes the new year by celebrating Gudi Padwa. People decorate their houses and front yards with beautiful handmade rangolis and flowers. They also make splendid handmade dolls. People meet friends and relatives, exchange gifts and wish each other good fortune and happiness. Sweets like Puran Poli and Shrikhand are served at home for guests.
Where is it celebrated? Maharashtra
What makes it awesome? Unique Handmade dolls made of bamboo, and leaves of mango and neem
Date – 18th March 2019
Onam – South Indian celebration of Successful Harvest
The festival of Onam is celebrated in the state of Kerala wherein individual houses are decorated with floral rangolis, people wear colourful traditional clothes and eat sumptuous local cuisine like rasam, avial, parippu curry, payasam, and so on. The festival celebrates the arrival of Mahabali and lasts for 10 days.
Where is it celebrated? Kerala
What is it known for? Traditional food, flower rangolis, tiger dance and snake boat races
Dates – 15th August – 27th August 2019
Pongal – Showing Eternal Gratitude to Mother Nature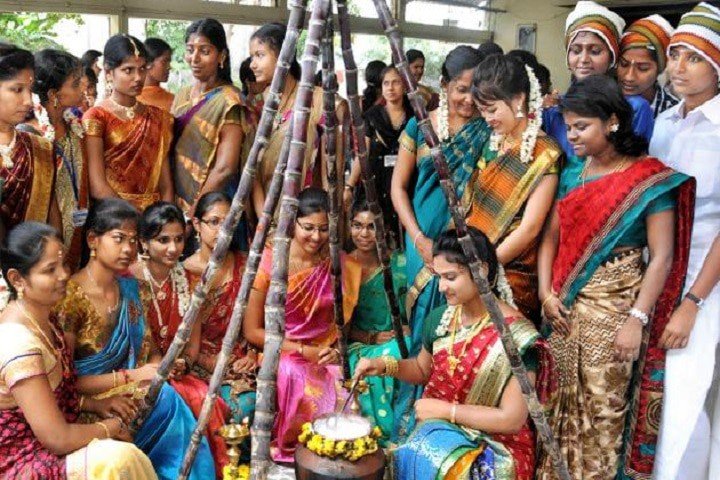 This is a four-day affair starting with Bhogi and thanking Lord Indra for abundance and rain. The next day is dedicated to thanking the Sun God. The third day is dedicated to worshiping cattle; and on the fourth day, people prepare the dish Pongal and make sweets. This is a festival celebrated for doing away with the old and being welcoming the new.
Where is it celebrated? Tamil Nadu
What makes it awesome? Bull Taming contests, Bonfires, and yummy food.
Date – 14th to 17th January 2019
Ugadi – A Day to Begin New Ventures
Ugadi is the harvest festival that also marks the new year in Karnataka and Andhra Pradesh. People perform poojas at home and it is known to be an auspicious day to start new ventures. People decorate their houses with Earthen Lamps, take oil baths, eat neem leaves for prosperity, wear new clothes and prepare delicious food.
Where is it celebrated?  Karnataka and Andhra Pradesh
What makes it awesome? Delicacies like Ugadi Pachadi, Obbattu, and Pulihora.
Date – 18th March 2019
Vishu – Worshiping Lord Vishnu
Keralites have a sincere and undying love for Lord Krishna and Vishnu, which is seen through the celebration of Vishu. This harvest festival signifies New Year for the people in Kerala and is celebrated with much fervour. People start the day by of offering morning prayers, then prepare elaborate feasts and also burst fire crackers.
Where is it celebrated? Kerala
What makes it awesome? Preparation of Vishukkani made of rice, cucumber, betel leaves, arecanuts, gold jewellery, Kajal, metal mirror, etc. Also golden yellow Konna flowers.
Date – 14th April 2019